Humans and all animals live in ever-changing environments. The ability to flexibly adapt behavior to changed requirements is therefore critical for all organisms to thrive and survive. Consequently, all species have evolved the general capability to make sensory-guided decisions that weigh benefits against cost, based on expectations from previous experience. Such decisions and their implementation through adaptive motor control continuously permeate every aspect of life, yet the underlying processes in the brain are insufficiently understood. Moreover, the neural networks for adaptive behavior are targets of common neurological diseases. iBehave brings together a world-class group of scientists who will work across disciplines and species to study behaviors relevant for survival, and their underlying neuronal networks. We will use novel approaches for fine mapping of natural behaviors using machine learning and AI, and combine them with emerging methods to record from large numbers of individual neurons in behaving animals. Using computational and comparative approaches, we will develop a theoretical framework of behavior a cross species.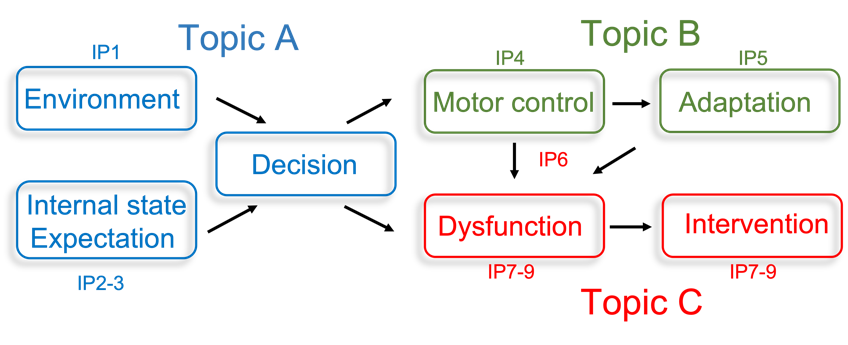 We will achieve these aims in intersectional projects that combine expertise from multiple disciplines and species. We will examine how goals are defined during decision-making (Topic 1, see flowchart) and how they are achieved using adaptive motor control (Topic 2). Importantly, we will apply the same strategies to understand how and why such behavior is perturbed in neurological diseases (Topic 3) and use this knowledge as a starting point for novel diagnostics and therapies.



Intersectional Projects: DISCOVER
Establishing joint technology platforms will make cutting-edge approaches available to record neuronal activity and to map behavior.
Technology Platforms DISCOVER
How do we quantify behaviour DISCOVER
How do me measure neuronal activity in behaving organisms DISCOVER